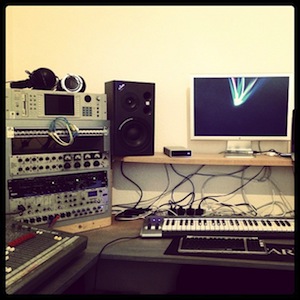 Professional Recording Studio,
Apsley, Hemel Hempstead.
Based in the outskirts of Apsley, Fishbowl Studios are available for recording sessions, voiceovers, mixing and all other audio-related projects.

Whether you're an experienced recording artist or a young up-and-coming singer songwriter, we have the facilities and expertise to help.

Because we are a small studio, we can keep our rates low without sacrificing any sound quality. In short, you wont be paying any extra for equipment you wont need and your recordings will still stand up well in the current market
Each project is produced on an individual basis and our team can help as much or as little as you like within your own set budget.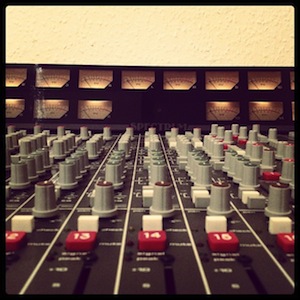 We operate a hybrid studio with Apple Logic Pro at its heart, running through a vintage Allen & Heath mixing console. With the best software and outboard gear we can create a quality sound to suit you.
Here are some of our favourites:

• Focusrite Voicemaster Pro preamp and vocal strip
• Akai S5000 digital sampler, 16 output expansion
• Toontrack Superior Drummer
• Waves Plugins Bundle
• Presonus Preamps
• Fender Amplifiers
• Roland V Drums fully integrated MIDI triggers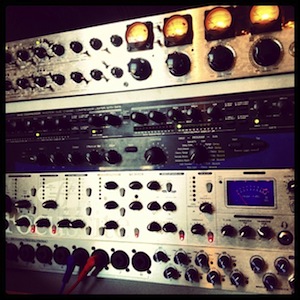 Music production for musicians...
...by musicians!
Unlike many producers we are musicians ourselves, each with experience on a number of instruments.

We can help out with song structures, harmonies and can even play in the backing instrumentation and programme extra instruments if required, using a comprehensive array of MIDI controllers and software.

We have the facility to track live guitars, vocals, bass and percussion. Drums can be over-dubbed or recorded first at special arrangement, or we have a Roland V Drums pro setup, which can be used to trigger Superior Drummer
or any of the other excellent plugins.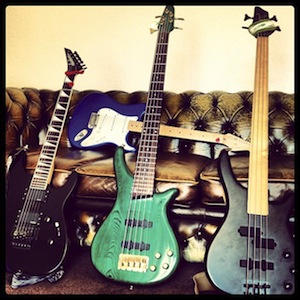 In addition, you'll have access to a range of instruments, microphones and amplification (old and new) from our private collection

Our studio can be booked for sessions during the day and/or night, and we make special discounts for parties and extended projects.

To book a session today, or simply to inquire about costs etc, please get in contact. You can call Ozz on 07920 400 448 or send an email please visit the contact page.

Prices start at only £20 per hour.